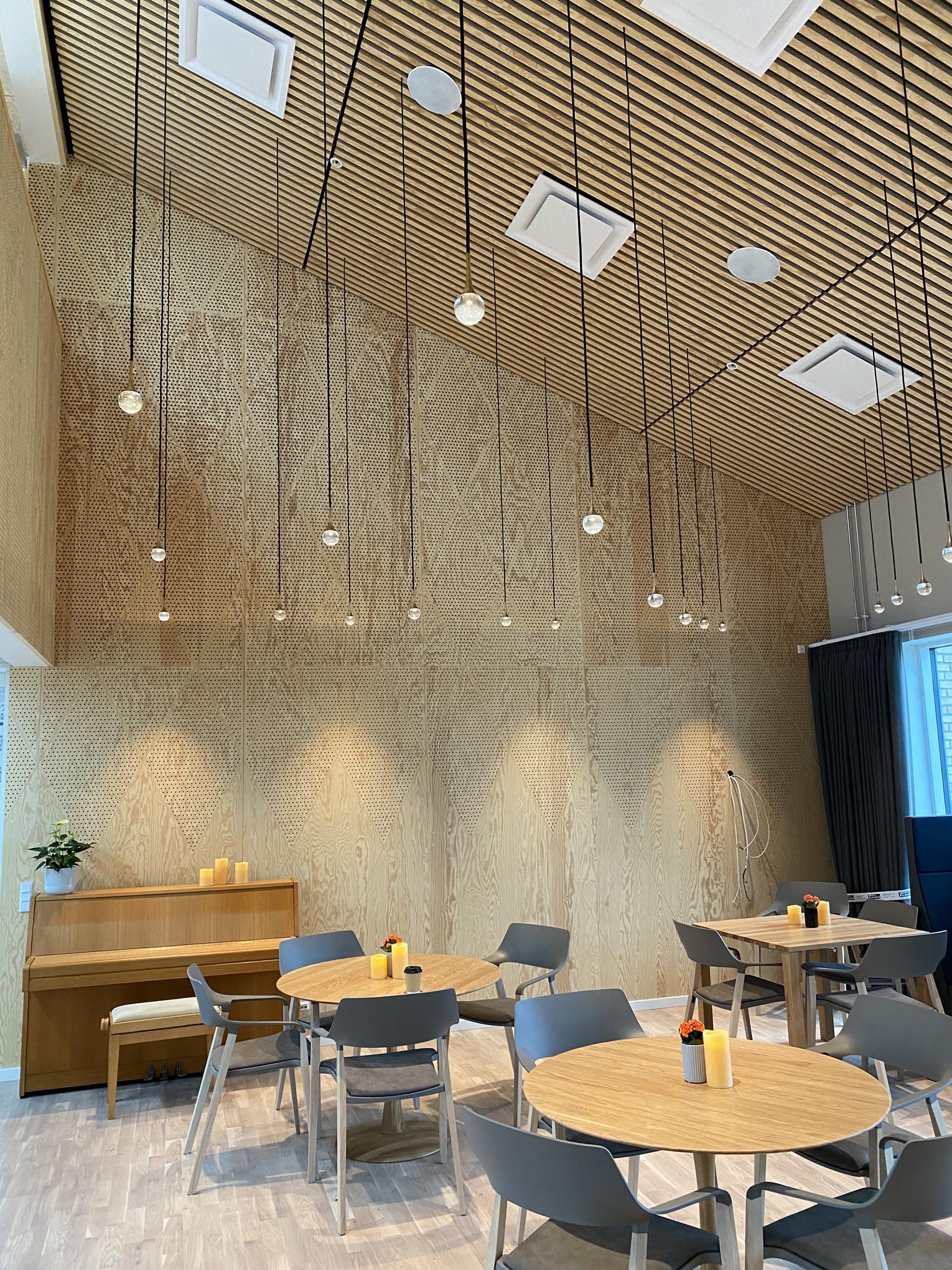 When planning nursing homes there a many, many interests to balance. Oftentimes, these interests are opposing each other. The regulations regarding the work environment of the nursing assistants is very important, and quite often these regulations impact the built environment in a way that makes it difficult to create a homely feel. In this nursing home, we had a strong desire to do something more for the residents, in addition to making this a great place to work.  We worked in close collaboration with OK-Fonden to create a nursing home with the emphasis on home.  
To enhance the wayfinding in a subtle way and create a strong feel of being home or being out, the project is decorated with great diversity in the various rooms and sections. Each section is based on the colour scheme and décor of a certain time period. Kirsebærlunden is based on the 50s, and all interior and furniture is in dark woods.  Egelunden is based on the 60s and 70s and is all oak. Birkelunden is based on the more modern and fresher colours of the 80s and 90s with fixtures in light woods. All living rooms and dining rooms are decorated differently, and great emphasis is placed on the diversity of colors, textures and materials.  
In order to create a common thread, the living rooms are arranged according to themes that one would find in a large villa. In example, you will find "The study room", "The library", "The work room" and "The garden room". Other rooms take inspiration from activities that could be found in a local area, e.g. "The Jazz Cafe", "The Cinema" and "The Dart Club". Each department also has its own spa, which are also decorated in a strong, yet subtle colour scheme and with different accessories. In addition to the private spas, there is a "luxury spa" in the central building, which residents as well as visitors from outside can use. The central building also contains other common facilities for all departments, such as café, occupational therapy, guest room and administration. These are also facilities that can work well as a destination for a "field trip" within the building complex.  
The everyday life of residents in nursing homes largely takes place within the buildings, and we hope to encourage people to wander of in the safe environment of the nursing home. It is our hope that the residents and staff will make use of the entire house, so that they are not limited to staying in "their own segment". We hope that all residents can find places around the house that appeal to their aesthetics so that they can find their own favorite nooks around the house. Hopefully, trips to the favorite room in another section or to the café in the central building will help the residents stay healthy, both mentally and physically. 
Similar projects